Passive Solar Modern Prefab House Construction Updates from Green Modern Kits / Green Cabin Kits! With Off Grid Life.
Psssst! Sneak peek at a big upcoming modern prefab house announcement
I can start talking about in the new year!


As usual, at my own prefab house,
when the temperatures drop
and the cookstove goes out overnight,
off grid with only a tiny firebox
heating the entire prefab house
we still wake comfortably.



At our modern prefab house companies, Green Modern Kits and Green Cabin Kits, we are having a very busy fall and winter.
Here is a quick update, and
I will be going in to each passive solar modern prefab house construction project in much more detail
in the coming weeks.
In general, when potential clients ask for SIP fabrication quotes from the factory, I tell them the estimated time for fabrication of the panels is about 4-5 weeks. Now, even in winter, this year I need to tell them 6-8 weeks, because that's how busy the plants are, east coast
or
west coast. It's not just the plants; the architects are slammed, the engineers' schedules are full... so if you are planning on purchasing a prefab home, what you need to know is that if you leave things "as is" and don't start customizing anything that would involve an architect or engineer, even so, it will be a few weeks longer than usual.
If you are
really
reconfiguring the prefab house design, expect much longer than you might think for this time of year, because it seems as if this summer's boom still has not ended and everyone is still going full steam ahead already before your project gets into queue! So my message to interested parties is: PLAN AHEAD. Start interviewing contractors now, not when you actually want the house to be purchased.
Now let's go over our current prefab house projects and a brief synopsis of where they stand:
The Wolftrot
Dogtrot Mod modern prefab house from Green Cabin Kits
has been modified for the Pacific Northwest and the client's lifestyle.
You can follow the Wolftrot prefab construction progress here
.
As I mentioned, the clients decided to close in the breezeway between the main and guest units and create a solarium, changed the foundation, roof, and more to accommodate snow load and lifestyle choices.
These European clients have lived allllll over the world and have decided to settle on the west coast.
What makes this client particularly engaging is his quick understanding of the prefab industry, as he has a background in business, engineering, and, with his wife, has lived in architecture as diverse as restoring a hundreds of years old stone home in England, to also having built their own new homes in the States.
They are big fans of SIP, understanding that the consistent quality, energy efficiency and speed in fabrication of the structural insulated panels overcomes the slightly higher upfront price.
This prefab house will be sited discretely on this peaceful property, nestled near surrounding woods and overlooking the lake.
Currently, this project is in engineering.
The Austin Dogtrot Mod
this
Dogtrot Mod modern prefab house will be a contrast to the Wolftrot in that it will be a standard, push-button prefab house as our architect envisioned. The only divergence from the design is that in order to site the modern prefab house correctly on the lot, the breezeway will be narrowed by four feet in order to remain within the easements of the urban lot, and the roofline raised.
Enjoying Austin with her family.
The client, Amber Gunn, is a savvy entrepreneur in the real estate industry. Here, the Texas native explains how she went from a degree in accounting into her love of real estate!
"While I loved financial analysis and problem solving, I didn't truly love the monotony of accounting. I was hired as a business development representative for a title company where I mentored and coached realtors. Early on, I knew that real estate was something I was very passionate about.
I got my real estate license in 2006 and my broker's license in 2008, and I haven't looked back! I created my own brokerage called Austin Domain Properties in 2008. As a Dave Ramsey Endorsed Local Provider (REAL ESTATE) and Master Financial Coach, I use my finance expertise to coach my clients in their real estate plans ranging from 1 year to the next 50 years. "
Amber and son checking out their
newly-purchased lot.
Currently
this
modern prefab house is in the engineering and permitting process, with structural insulated panels due to arrive in two months.
This
Austin Texas prefab house project can be followed here
.
The project shall be thus called, "La Rancho
Pistola
."
Amber
GUNN
you crack me up!!!
There is an R1 Residential modern prefab house on Lake Tahoe project...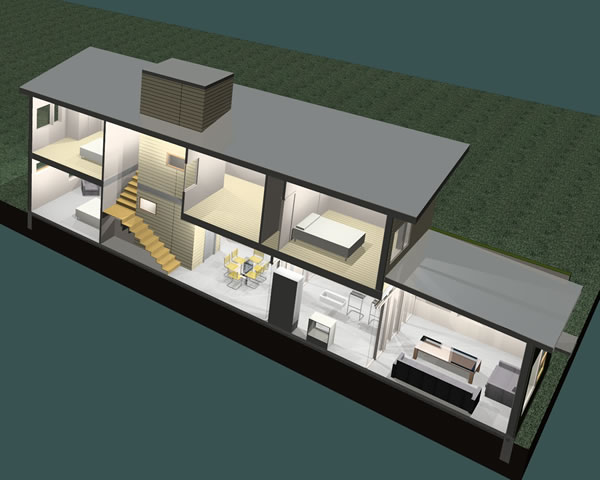 Keep an eye on how they flip this floorplan!


A local Tahoe City design firm is adjusting the floorplan in the R1 Residential for the client, and an engineer has been engaged to adjust the roof for snow loads and local code.
The client is a modern design enthusiast, as is the designer.
What makes this prefab project interesting is that the client is flipping the floorplan- the kitchen and dining will be on the SECOND story. They are also building the
R1 Residential modern addition
.
The 18,000 sf lot is in an extremely restrictive zoning area, with heavy snow.
If you love Lake Tahoe you will
love
where this prefab is located! But for now, I will stay mum on that. : )
More details on this modern prefab house and project team,
in upcoming weeks!
Currently, the quote for this modern prefab house project has been approved, and now moves to engineering, and the client wants to break ground in May.
Remember the R1 Residential Outside of San Francisco?!?
IT HAS BEEN BUILT!!!!
A *modified* R1 Residential
under construction outside San Francisco.
I am hoping to share with you interior and exterior photos very soon!
And finally, we have a Dogtrot Mod in the Northeast update!
The client enjoying the first snow of the year
in her Dogtrot Mod "Little Lab."
This client has been such a joy to work with. If you recall, she built the guest unit of the modern prefab cabin first as a retreat, while still living in her historic farmhouse.
It has finally come time to put her farmhouse on the market, and thus, she wrote that in soon she expects to re-start construction and finish the project.
Of note: she wants to finish with
HEMPCRETE
.
I will be re-publishing this update on our Green Modern Kits News blog in about a week, with details on the TEAM involved with each prefab- the contractor, the engineer, the interior designers, and more.
One thing to note is that a lot of these projects happen only after years of discussion, after many gentle leads turn into, suddenly, a very real project where the client has the loan, the lot is purchased, contractor lined up, and suddenly out of the blue I get that call that another prefab house is a GO.
Each prefab project and person is fascinating and is it's own vibrant journey.
I enjoy learning about every client, their lot's unique character, their life.
I really love being able to work all over the USA... from the middle o' nowhere, in my own dream prefab modern home!
In OUR family and off grid life, as I have mentioned, we are enduring enjoying the persnickety smelly moody aura of teens the high school years.
Ok maybe they're not SO bad...
Ah, the teen years.
Like many families, we are doing too much, and I miss the steady confident-yet-quiet security of homeschooling on the farm, where you worked hard on your studies then spent the afternoons free outdoors. But then again, maybe back then I thought I was overwhelmed, too!
Halloween was great, Thanksgiving was great, with friends and family and even sailor friends reuniting, brushing our hair, and gussying up together. So the teen years are good.
I just miss our quiet days allllllll together,
24 hours a day, seven days a week
, I guess.
The teens don't.
They want REAL SCHOOL and lots of KIDS who are not goats.
Anyhoo.
Tonight, over dinner, Teen 1 is talking about how much he wants a job.
So I put my napkin down, languidly leaned back, and said,
"Sure, we're done, pick up my dishes and clean the kitchen."
He says all the city kids have jobs.
Jobless teen busy at work.
"Well, after you're done helping the F's put up about a 1,000 bales of hay each June, after you're done teaching Code Camp for free to rural kids,
after
you're done letting out, feeding, and locking up the chickens horses dogs and the very-naughty donkey daily,
after
you have swept the house and cleaned your room, after you have folded your laundry, and after you have scrubbed the bathroom, then done your homework, and are making straight A's, AS LONG AS IT DOESN'T INTERFERE, we can talk about it.
But... kid: country families have too many jobs they already need you for in the family to hire you out."
Replacing a well pressure tank
bladder instead of
just going out and buying a new one.
This teen has skillz!


I prefer he work as a programmer wherever we are and earn $X++ vs. scooping ice cream for cents, live with us rent FREE so he can save enough to pay a mortgage at a super young age (thus having his ROOMMATES pay his mortgage).
THAT'S how you freakin' get out of my hair, not by scooping ice cream.
It seems to me that often, city kids have jobs "to teach them responsibility."
But country kids... well, they just have a lot of jobs and we depend on them to be responsible.
And thus ends my musing and prefab projects for the day.
As my English clients say... TTFN!
.
.
.
.
.
.
T
aa
t
aa
F
OR
N
OW.
: )
The teen girls had a great Halloween handing out candy.
All gussied up for a sailing event believe it or not!
Matching sailors!
Caught up to Granddad.
Love a guy in an apron.
'Bye Grandma! 'Bye Granddad!
Labels: Dogtrot Mod prefab Austin, Dogtrot Mod Wolftrot, green building, hempcrete, Prefab House Project R1 Residential Outside Of San Francisco, prefab house projects