Net Zero Prefab And An Old Farm House Look At AC And What Is Enough?
Our days of going to, and fro, from the off grid prefab house and the150+ Year Old Ramshackle wanes with summer's end.
Net zero prefab house...
150+ year old Ramshackle
Although we
deeply
miss our equines and many friends there, at the prefab, it is here, on the bay, where our Pips have bunches and bunches of kids with whom to play, and
generations
of friendships.
Off grid, canning isn't just about being all maker-y:
Living off grid in the modern prefab house, we chose to convert a chest freezer into an off grid fridge, which works great because it's affordable. Canning is very important in our family when living with such small fridge space- the more things we can put up, the less space we need for refrigerators or freezers...
Each summer, I delve into the topic of air conditioning. Honeychiles, we live in the south, and it is not just hot, it's HUMID. This week
on Lloyd Alter's facebook page
, he again brought up the subject and there were some thoughts and links I found compelling and thought I'd share:
Rethinking insulation and design in a North York home
"...the best way to become superior is to jettison that stupid vapour barrier, Sustainable.TO principal Paul Dowsett says, since it only works when our homes are in heating mode. 'Our building code still does not understand that we cool these boxes down in the summertime,' he offers.
'It's always considering that the vapour-drive is from the inside out. Well, that's fine in the winter, because that's what it's doing,' he continues. 'But in the summer, the vapour-drive is the other way, so that sheet of poly is in exactly the wrong place in the wall.'"
CURIOUS? Learn more about "The Toronto Method,"
here
.
I approach AC in this southern climate with the philosophy of, "Just Enough."
In the tight-envelope, insulated, energy efficient off grid prefab house of course, we, if we had an AC, would use it extremely lightly as, once comfortable, the house stays comfortable.
But right now I'm in the leaky, INefficient 150+ year old farmhouse. As all our visitors know, we're no AC gluttons!
Here is what I do:
Fans, shade porches, and iced tea are an immense help, too.
We can all embrace the culture of "taking just enough" and even make it fun, like one English village who became a climate leader by quietly cleaning up its own "patch."
"...The effort, reaching its 10th anniversary this year, has led to a 24 percent cut in emissions...
...
But what makes Ashton Hayes unusual is its approach — the residents have done it themselves, without prodding from government."
The off grid modern prefab house and the In Town Ramshackle, though built 150 years apart, share this helpful architecture attribute that helps heat and cool through the seasons: THEY ARE BOTH PASSIVE SOLAR.
Less windows here...
A few more here, plus purposely planted trees...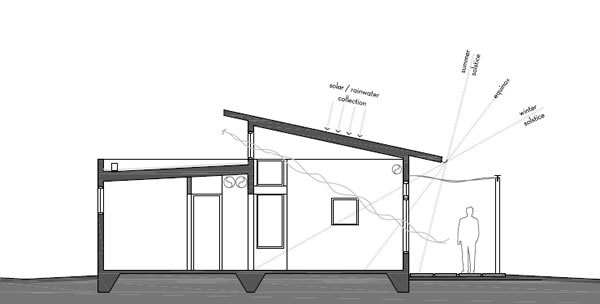 Our passive solar prefab house.
Notes From The Bay
Last week our solar fence went down that helped protect our hens. We lost a broody hen, and all her eggs, except one. The next day, a raccoon breached the fence and killed another favorite hen, Egg. The one lone egg that was not eaten earlier was Egg's egg. Oh we wanted that egg to hatch... but as expected, it didn't.
Pragmatic we are when one lives closer to food chains... but that does not mean we're not sad over this.
As the summer days wane, friends gather, this time at one of my favorite mid-century modern homes, The Red House.
Recipes:
Cheating At Fancy Scallop Pasta
Hope you're enjoying these last summer days.
We are.
Labels: green living, off grid house, prefab green home, recipes