From The Land To The Sea Off Grid SIP Prefabs Are The Place To Be
It's summer. We go to and fro, and back and forth, from the off grid modern prefab house and my childhood places on the bay.
Off Grid lawn mower.
Storms blow through harder than usual these days, no? Can you last remember so many tornadoes?
City residents without power for days, 160,000+ out in Richmond... here's some of the
damage in the area
:
From Jamie Betts Photo -
"Huge bow echo that moved through #RVA last night. The green light is from exploding transformers."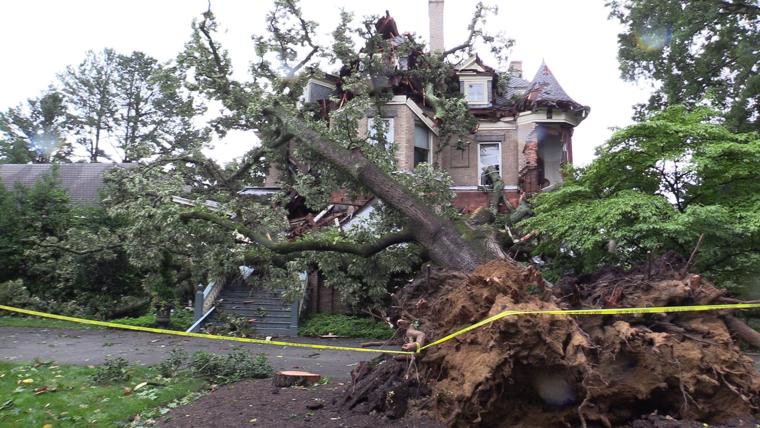 DEAN HOFFMEYER/ TIMES-DISPATCH
That's Why Living In Structurally Strong Homes Is Critical More Than Ever.
Country Mouse, City Mouse, Bay Mouse Musings
I remember when people thought whole-house automatic generators were odd and unsightly. Now realtors add them as a featured bonus when selling a city home (or any home!)... With water sources so insecure, will rainwater cisterns be next for properties on the bay?
And ideally, as
we
know: Off grid with rainwater collection is not just a wise investment, but affordable, if you are willing to live lightly, giving up things you find you don't even miss.
Checking our rainwater cistern level...
Happily lightly off grid and not missing much.


So. Speaking of living lightly and not depending on outdated systems... the U.S. Chamber of Commerce joins anti-solar crusade.
Uh, yeah, PROGRESS! (
What
?) Ok let's break this article down.
I've always had mixed feelings on net-metering, in that if you are relying on net-metering then you bought systems too big, no? Live lightly, guys. I'm always looking at being affordable, off grid, yet modern.
"In its email, the group warns: "While your neighbor is receiving a credit (in the form of a reduced electricity bill) for putting excess energy back on the electricity grid, these outdated net metering policies overlook the costs to use, maintain, and update the grid. So, who is actually paying those costs? You — and everyone else!"
There is actually some truth to this. But the problem with the chamber's analysis is that it ignores the positive effects of rooftop solar — most importantly, that it reduces the need for dirty, fossil fuel-based energy that causes air pollution and worsens climate change.
Here's a more fair way to paint the situation: Electric utilities are using outdated technologies that poison our air and destabilize our climate. Who is actually paying for those costs? You — and everyone else!"
Read the comments on this article, too, fyi.
SPEAKING OF UTILITIES... U.S. Appeals Court Upholds Net Neutrality Rules In Full
Yay, internet!
Landscape Architecture, Architects, and Meaning
Scott and Catherine Kyle (that's Scott Kyle of Full Scale Architecture, y'all, and his lovely amazing artist wife Catherine May!) are some of the sweetest, loving people I am honored to call friends and if you know them then you are not surprised AT ALL that they would do something so touching (and environmentally friendly!). Thought people reading here would be touched,
reading this story
:
"There is a new garden in Richmond's Museum District that looks different from any other in the neighborhood.
It's modern and architectural in its design: with six raised beds, an in-ground cistern that waters the garden, and obelisks for climbing vines that rise from the center of each bed like triangular sculptures.
It's formal and striking. People walking by often stop to snap photographs of it with their phones.
But what the casual passer-by doesn't see is the story behind the garden."
But Back To The Bay!
Cousins try to out-pirate and out-plunder another. #PirateKids
On Our Way To The Bay We Did Art
A few years ago I fell in love with a painting in the Virginia Museum- I didn't even know the artist's name. And now an exhibit, an *
entire exhibit of his work* is here- Kehinde Wiley
. Even before the exhibit opened we bought the book. No book or Internet pictures do his work justice. I wasn't prepared for how huge the pictures are, the *detail,* the frames, the colors! It was
so
special to share this with the Pips' cousin visiting from L.A. today.
Pip 2 Continues To Work On Her Project Pony.
Reading Club:
Labels: net zero house, off grid house, prefab green home