Off Grid Modern Prefab House Battery Arrives
It has been a sick week at the off grid prefab house, and we have been laying low.
Apparently I have a vitamin D deficiency, which is ironic considering how much time we spend chasing chickens dogs and a horse, daily.
But we are on the mend and it is time to turn my attention back to work:
I'll start writing about the modified R1 Residential prefab project in the northwest again in March; but yes, it's time to start talking about the Dogtrot Mod modern cabin prefab from Green Cabin Kits that will be built in North Carolina!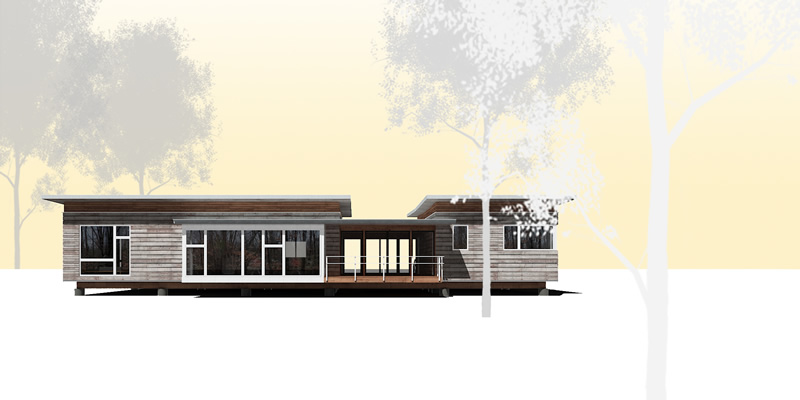 I have had great meetings with the contractor, and although he has never worked with SIP (structural insulated panels) he has plenty of technical documentation and the support of all of us- the architect, the SIP team, and myself- to ensure the project is a success. We have a meeting with the contractor and architect next week, the distributor has been notified of the project timeline, and I look forward to covering this prefab house project this spring.
But... back to me. ; )
Mid-week, the temperatures dropped into the teens. We were just too tired and sick- as always, we let the cookstove burn out once we went to bed...
And with morning, this is how the temperatures read:
12 outside, 65 within, with no heat overnight.


Outdoors, a crispy 12; inside the off grid modern prefab, cozy with structural insulated panels, it was balmy.
We fired up the cookstove for breakfast, and were quickly toasty.
Good morning...
Friday, at the off grid prefab, the battery that will replace our existing solar battery bank arrived!
Here's the battery!
Sooooooooooooooooo our good friend Mister B drove his tractor over...
...and here's how they moved that 1,500 pound hunk o' metal onto the slab.
(Thanks for your help, Mister B!)
The plates on these industrial batteries are thicker, which is why they last longer, allowing for more charges and discharges over its lifespan.
This battery weighs 15frickin' hundred pounds. That's one-five-zero-zero, y'all.
Here's more information on our new off grid industrial battery:
Battery Builders Inc. GB Battery 1182 amp hours 24 volt (our old battery bank was 1110 amp hours)... Our distributor was Stoves & More, and we recommend them highly.
Our good friend S. came over to inspect it- he is an electrician and farmer, and interested in off grid.
Boyz. Hanging out, talkin' battery stuff.
Sunday to Sunday, I remained in bed. I checked work emails every two days, had meetings with apologies for my hacking, and then... suddenly, Sunday afternoon...
I GOT OUT OF BED.
I dragged myself to the pasture. And there, waiting, was sweet Zena.
She looked at me and nickered, "Wanna riiiiiiiiiiiiiiiiiiiiiiiiide?"
Heck ya.
I'm BACK! BACK IN THE SADDLE! Literally!
Ready for work this week!
I am especially thankful to Pip 2 this week, who, after begging to take over the kitchen for years, finally got her wish. This ten year old fed all we bedridden ill people. She made bacon and eggs, tuna fish and crackers, homemade rolls, and made sure each dish had vegetables and an apple slice. When I finally did rise, I made sure to make healthy, healthy food to nourish us back.
Recipe:
Sweet Root Soup
Mince garlic, onion, carrots, dice equal parts of sweet potato & turnip, fat pieces and water or broth. Simmer until done. Remove fat pieces. Puree the rest. Plenty of salt, and pepper. This is a much sweeter soup than you expect! Regarding fat pieces: Never throw away any trimmings. Store them in a container in the freezer, for times like this. It makes things so delicious. Another tip: get a hand-held blender. Makes stuff like this SO much easier than pouring hot soup into a food processor. And cleaning the hand-held is a breeze.
We ended the week with a 70 degree day!
Deep in conversation with his girlfriend...
,,,'till next week!
Labels: battery bank, modern prefab, net zero house, off grid house, off grid systems, passive solar, prefab green home, prefab house kits, recipes, structural insulated panels, zero prefab