Off Grid Modern Prefab House Fills With Indian Summer
At the modern prefab house, off grid, it has been a week full of Indian Summer.
It is hot during the day, but I am enjoying this off season "vacation breeze" that blows through the prefab's open windows, swinging chandeliers, suddenly slamming doors... it makes the house feel like a beach house.
The dogs lounge on the cool concrete floor, as a delicious hot wind allows you to pretend you're back on the sandbar, toes in the water, with good friends, chatting, a warm beer in hand.
But I'm here, surrounded by trees and trees and trees, their branches waving up a happy breeze channeling up the valley on a hot afternoon - different, but just as good.
[In the back of my mind I wonder quietly what the water level in our rainwater cistern is... but it's supposed to rain next week so I push that thought down and embrace the pseudo-summer breeze.]
Surveying the country, I think, "Well what if I built this prefab house in the city? What would I do with this design in an urban environment?"
Passive solar, this house does have a lot of open glass...
There would be so many interesting ways to approach it, on an urban lot.
I think my favorite solution (and best for true passive solar functionality) would be a perimeter of privacy cool landscaping, growing shorter to the proximity of the prefab, in a modern, geometric way...
I was also thinking about window film- translucent on the top but frosted in clean lines at the the lower areas, yet still letting in diffused light... here's a few I found interesting: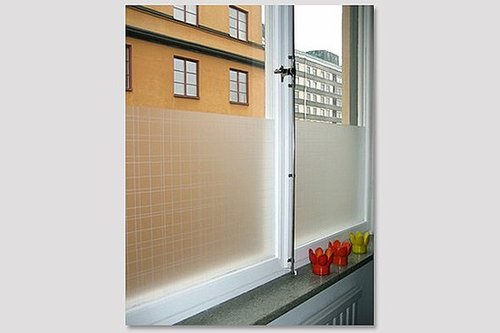 From ShelterPop- I love this combination of frost + a subtle, modern grid pattern.

Maybe not this image, but wouldn't it be cool to have a running actual picture that spans several windows vs. a repeated design?

*Note: When considering window film, make note of the materials- they now make window film that is PVC free and without

phthalates. At the off grid prefab house, like everyone else in Virginia, we are INUNDATED, suddenly, with stink bugs!

They cling to the house, the windows... you can hear them rat-ta-tat-tat-ing against the galvalume of the modern prefab home- it sounds like when rain first begins to fall on a tin roof- that ping... ping... ping... right before the skies open to a downpour.

Oh, wait, apparently it's not just Virginia- stink bugs are invading the country!

Pipsqueak 1 has a novel approach on how to address the stinkbugs:

"WHY IS THAT DOG BARKING?"

"Because I'm wiping the windows with a chicken..."

So he's wiping the stink bug covered windows with a chicken, who is happily pecking away at the glut of treats.


This happy hen is being "mopped" on one side of the glass, while the 100lb Puppy's head does circles, on the other.

He, hen held high, serious: "She can reach the areas I can't..."

And off they go again, pecking away the stinkbugs.

This week,

SOMEONE had a birthday...


Pipsqueak 1: "But I have foreboding because with every year one becomes more and more serious." I: "Well, I feel *much* more silly these days than when I was younger."

He: "But you were goth or something. That's *terribly* serious."

Pipsqueak 1 IS ELEVEN!

He had a great birthday. First, banana pancakes. Then, a Birthday Canter at The B's! He was so excited to finally get the hang of cantering, and really loved it.


Thanks to our dear friend and neighbor for letting him on their pony instead of just riding his horse, it *really* makes the difference when they can try new things on the pony before trying it on R. Then Miz B helped Pipsqueak 2 learn groundwork vs just focusing on the ride.

It was a beautiful day spent with a super friend and great equines.

With the birthday weekend, The Annual Treasure Hunt And Pinata Beating commenced.

Pipsqueak 1 got not one but two chemistry sets, and is so thrilled, especially as his sister has volunteered to be his Test Subject!

"I'm going to do an experiment where she'll grow gills!"

She double takes, glancing at him in alarm...

Regardless of these balmy temps, we continue to ready for a winter in the off grid prefab home.
Stacking wood, barefoot, in a sundress.
[P.s. We checked the cistern - it is 2/3 full!!!!!!!!!!!]
Reading Club
Labels: modern prefab, off grid house, prefab green home